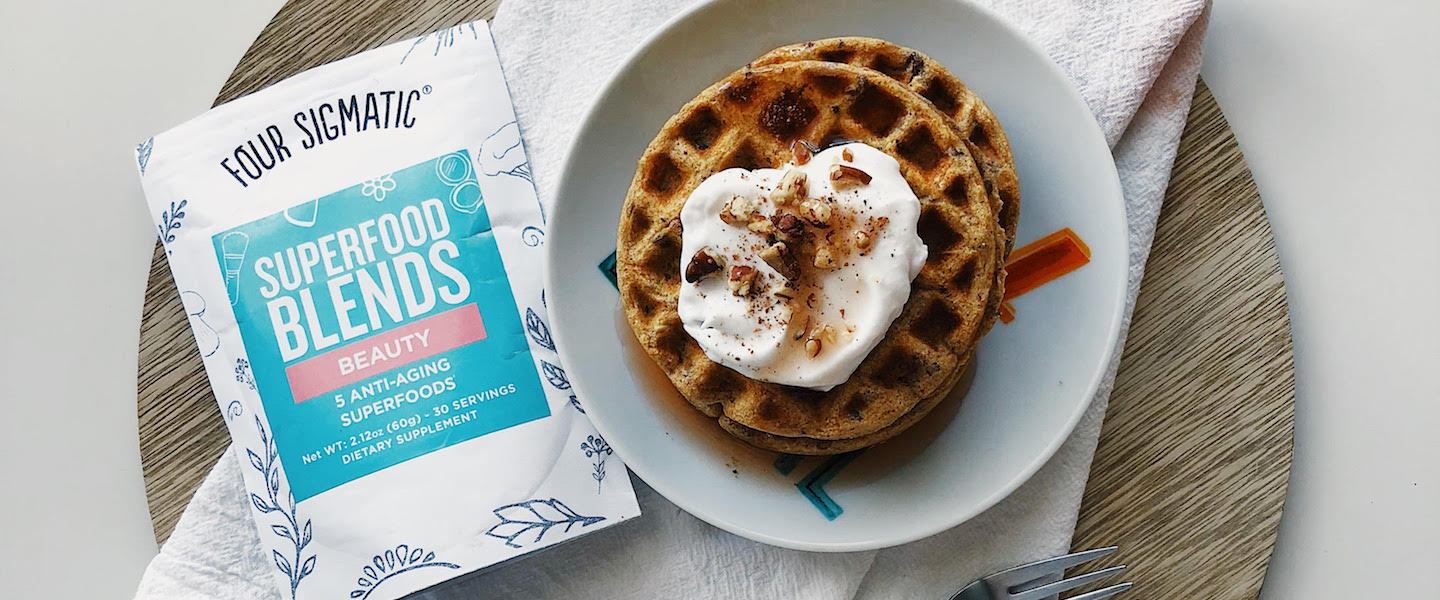 Superfood Beauty Carrot Cake Waffles
Is there anything better than crispy, fluffy waffles on a weekend morning? How about superfood waffles that help you glow from the inside out? This tasty morning recipe features our Beauty Superfood Blend, along with warming spices and fiber-rich ingredients, to fill you up and make you happy, all while supporting wellbeing with the goodness of body-loving functional 'shrooms. Add them to this weekend's menu and you'll be starting the day off right.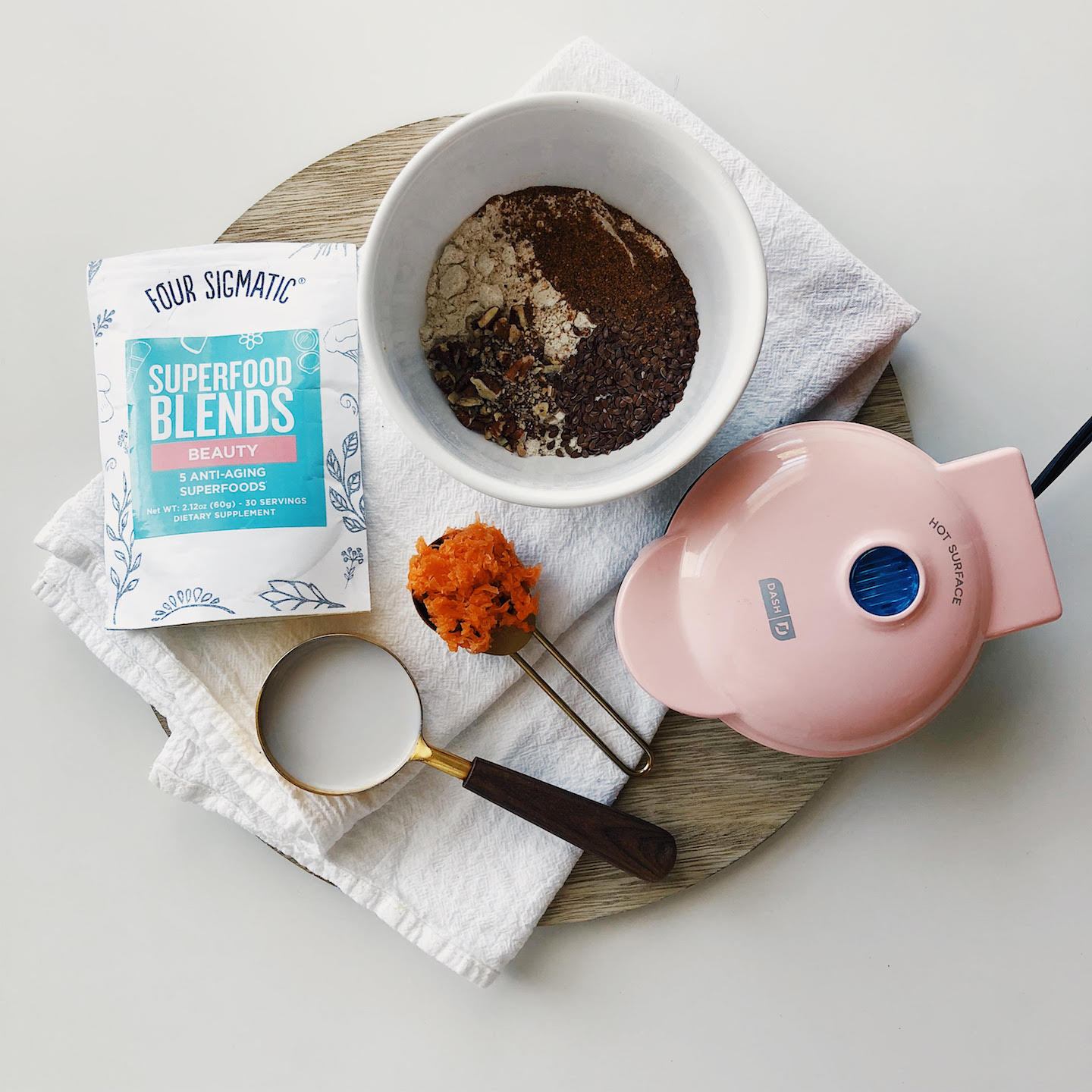 Superfood Beauty Carrot Cake Waffles
Makes four servings
Ingredients:
1 1/4 cups gluten free baking flour
4 tsp Beauty Superfood Blend
2 tsp baking powder
1 tsp cinnamon
1/2 tsp ginger
1/4 tsp salt
2 Tbsp grapeseed oil
1 cup unsweetened almond milk
3 tsp vanilla extract
3-4 Tbsp maple syrup
3/4 cup shredded carrots
2 Tbsp flax seeds
1/4 cup chopped pecans
Toppings:
Coconut probiotic yogurt
Chopped pecans
Nutmeg
Maple syrup
Directions:
1. Turn on your waffle iron and spray with nonstick cooking spray
2. Whisk together the gluten free baking flour, baking powder, Beauty Superfood Blend, cinnamon, ginger, and salt.
3. Stir in the unsweetened almond milk, grapeseed oil, maple syrup, and vanilla extract.
4. Mix in the shredded carrots, flax seeds, and chopped pecans.
5. Pour 1/4 of the carrot cake waffle batter onto the iron and close the lid.
6. Cook until you have browned waffles that are cooked through and do not stick to the iron. Continue with remaining mix, spraying the waffle iron with non-stick spray between each waffle.
7. Top with the coconut probiotic yogurt, chopped nuts, nutmeg, and maple syrup!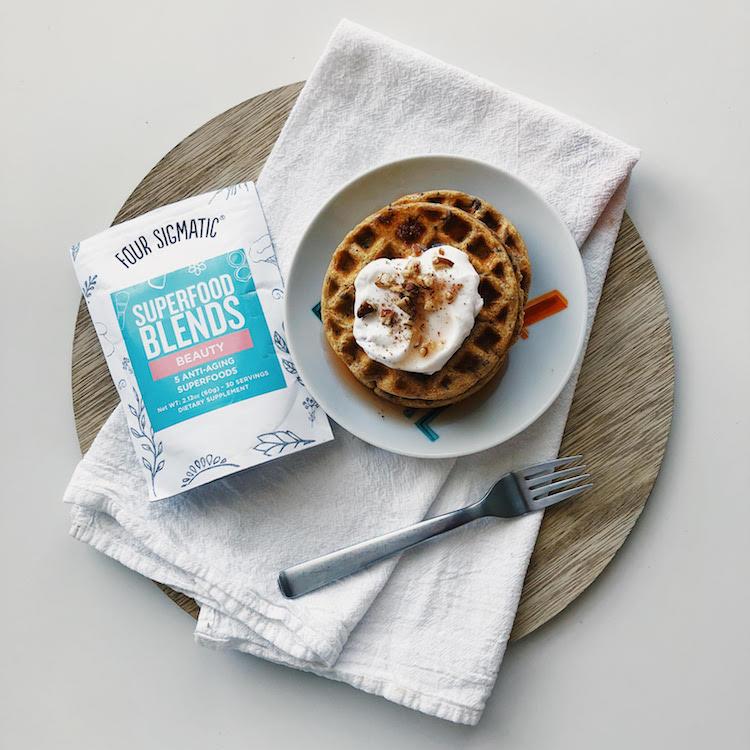 This recipe comes to us from Robin Plotnik of What Robin Eats. Check out her website and follow her on Instagram!