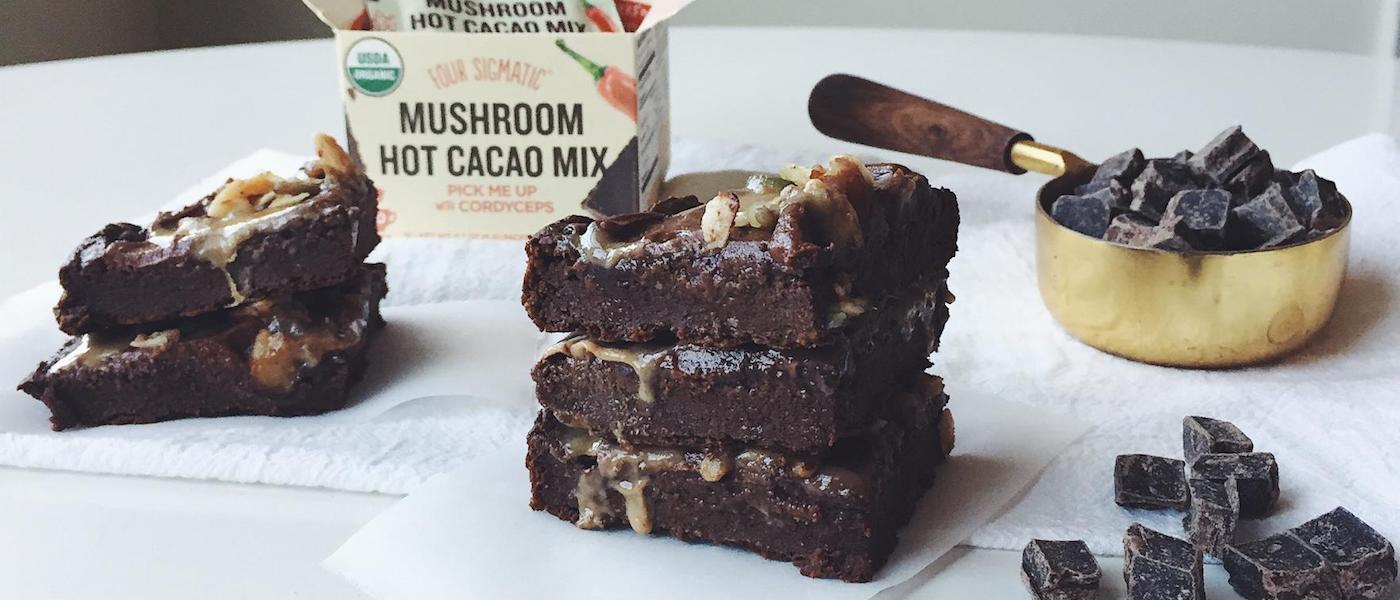 Hot Cacao with Cordyceps Brownies
What's better than fresh baked brownies? Fresh baked brownies with functional mushrooms and zero processed sugar! Bake up a batch for your next potluck or holiday party... or just make some for yourself!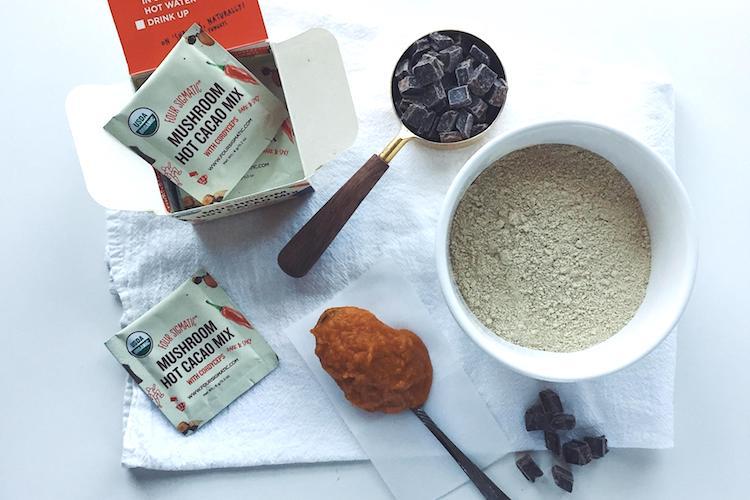 Hot Cacao With Cordyceps Brownies
Ingredients:
For the brownies:
4 packets Mushroom Hot Cacao with Cordyceps 
1 cup protein pancake mix (such as Kodiak Cakes)
1 cup dark chocolate chunks, divided
1/2 tablespoon vanilla extract
1 cup pumpkin puree
1/3 cup Greek yogurt
1 teaspoon cayenne pepper
1 teaspoon cinnamon
For the topping:
Tahini syrup drizzle (1 tablespoon tahini + 2 tablespoons maple syrup or honey + 1 teaspoon water)
1/4 cup granola 
1. Preheat oven to 350°F and line an 8x8-inch baking pan with parchment paper, leaving the sides overhanging. Spray parchment with cooking oil.
2. Place protein pancake mix, Mushroom Hot Cacao with Cordyceps, cayenne pepper, and cinnamon in a large bowl, whisk to combine. Set aside.
3. In a medium size microwave safe bowl, melt 1/2 cup of the dark chocolate chunks in 20 second increments, stirring in between until smooth and melted. Whisk in the vanilla extract, pumpkin puree, and yogurt.
4. Fold the wet ingredients into the dry ingredients.
5. Pour the batter into the pan and spread evenly. Sprinkle the remaining chocolate chunks on top and bake 25-30 minutes or until a toothpick inserted in the center comes out with a few moist crumbs but not wet batter.
6. Cool for about ten minutes. Lift the brownies from the pan using the parchment and transfer to a cutting board. Top with the tahini syrup drizzle, sprinkle with granola, and cut into squares with a sharp knife. Enjoy warm!
This recipe comes to us from Robin Plotnik of What Robin Eats. Check out her website and follow her on Instagram!